Aight bros and gardening tools, Ikmal is off to internetless Terengganu so I'll be doing the posts for a while. Seeing as I am off to work tomorrow morning, I will record the game and get a delayed aftermath post out to y'all.
*End formalities*
The 411:
United are on a crappy run of form but are still finding ways to win games. I really don't mind this as long as we keep it up. Tonight, we face Blackburn after a successful trip to Glasgow where we beat Rangers 1-0 thanks to a Wayne Rooney penalty.
Chasing the Title:
A win here would see United go top for at least a day as Chelsea will take on Newcastle tomorrow. Sir Alex believes that a win here would give us a psychological edge against a Chelsea team that has
lost their fear factor
.
I fully expect a win here tonight. There's no denying that Blackburn can be a tough team to play against, but if we want to be Champions, games like these have to be put away efficiently and easily
Where We Stand:
1|Chelsea|14P|19GD|28PTS
2|United|14P|13GD|28PTS
3|Arsenal|14P|13GD|26PTS
4|Man City|14P|8GD|25PTS
-------------------------------------
5|Bolton|14P|6GD|22PTS
Enemy Form:
Blackburn are L-W-W-L-W in their last five and aren't looking too shabby in mid-table. They are currently 11th in the table and beat Aston Villa 2-0 last week. Almost every year, there are a few teams that are, and will remain, mid-tablers. Blackburn is poised to be one of those teams this year and I honestly can't think of any other descriptor for them other than "average".
In any case, if we think like that before the game, we will screw up somewhere and end up losing some valuable points. Moreso because we're tied for first with Chelsea. So basically, as long as we take this game seriously, we're all good.
Players to Look Out For:
Morten Gamst Pederson
will be our player to look out for today for Blackburn. He is their leading scorer and assist-getter with 4 and 2 respectively. He scored twice last weekend (doubling his overall goal tally) against Aston Villa and will be full of confidence going into this match. Plus, he's a creative midfielder that will be able to create a lot of opportunities for Blackburn if our players give him the space and time to do so. So basically, if Michael Carrick keeps him quiet, we can all chillax.
As for us... I think all eyes still be on
Wayne Rooney
as he walks the road to redemption. He might not be on his best form yet, but I guarantee you the jury is still out on him and he'll want to do his very best to please the fans. I sincerely believe him when he says that he wants to stay and prove his loyalty. What do I say to that? Bring it on, Wayne.
Otherwise, I think we can expect a good game from
Anderson
. It sounds crazy, I know, but for some reason I seem to think that he's gonna do something cool tonight. Don't ask me why, just some sort of feeling.
On the Home Front:
We have a mini-crisis in midfield tonight as Fletcher and Hargreaves are out and Scholes is doubtful. That leaves us with Gibson, Anderson, and Carrick in the center and I feel that it will be Anderson and Carrick there today. Shame, it's been a while since the last Gibson thunderbolt. The only other absentees for us are Valencia and Owen so it should be a good, strong team that lines up tonight.
In defender-related news, Ferdinand and Vidic are back after being rested against Rangers.
TSR's Thoughts:
1. Will Rooney make an impact tonight? How about Berbatov?
2. Will Sir Alex opt for Anderson or Gibson to partner Carrick in the middle?
3. Consistency in the lineup is what we've been missing, and I feel that with a solid starting team, we can start playing with more flair.
Bold Prediction:
Rooney or Berbatov to score tonight, not both. Also, Anderson and Carrick will start the game. I'm not sure if Ando will finish it though. I think he'll be taken off to give Gibson some time out there. Finally, watch out for Nani to make an impact. I think he'll either assist or score tonight.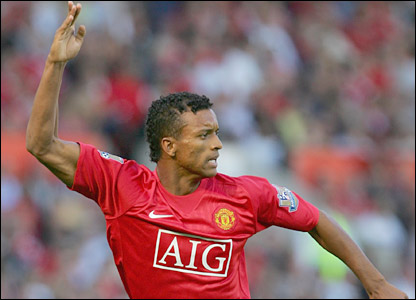 Black and Gold.