United were supposed to take on Blackpool this weekend but a pitch inspection at Bloomfield Road showed that the ground wouldn't thaw out quickly enough for the game. When was the last time a postponement affected a United game? My memory refuses to cooperate with me on this. Anyway, I digress. I was kinda bummed that United couldn't capitalize on an opportunity to bounce back from the ugliness that happened at Upton Park.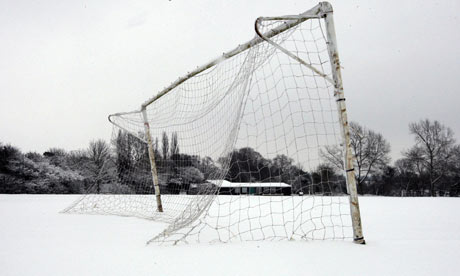 In any case, we should all be happy that Everton managed to hold Chelsea to a 1-1 draw last night. That presents Chelsea with an even greater challenge as they now lie in third, one point behind us having played one more.
So hurrah?
Not quite. Arsenal have been sneaking up the table for a while now and have gone top with their win against Fulham. However, I still have this feeling that something will go wrong for them. Why? Because something ALWAYS goes wrong for Arsenal these days. It's up to them to prove me wrong, but the way I see it, Arsenal will be back fighting for third/fourth pretty soon.
Not quite sure what's gonna happen to the Blackpool game, no date has been set to play it so we will remain a game behind the others for now.