I'm still reeling from Malaysia's destruction of Indonesia in the first leg of the final of the AFF Suzuki Cup. For those of you who don't know it, GOOGLE IT. I'm proud, in any case. But onwards to United!
The Breakdown
United 2-0 Sunderland
United dominate the Black Cats and we really assert ourselves as we begin to pull away from the rest of the chasing pack at the top of the league.
Didn't take us long to break the deadlock, Berbatov on 4 minutes, heads it home from a delightfully clipped ball by Rooney finding our big Bulgarian in space at the back post.
A spate of chances before the twenty minute mark set Old Trafford alight on a cold wintry day, but our lead couldn't be increased. Rooney had a superb chance with a Cantona-esque chip to the same post as the mercurial French legend, the only difference was that Rooney's chip was just the wrong side of it.
The posts got a bashing, though, first by Berbatov in the 10th minute, then by Anderson in the 14th. And Berbatov's whirlwind contribution didn't end there. He picks the ball up on the right wing, and skillfully beats Phil Bardsley and finds Rooney, who fails to capitalise upon another chance.
Sunderland, in fairness, played attractive football, always passing and maintaining positive possession. But it only emerged half an hour in and they were only just starting to make their mark. In truth, they didn't get too much possession in the
whole match
.
This flurry of activity early on in the match preceded the almost-frustratingly long periods of inaction. For the rest of the first half, only a long-range effort from Anderson on 40 minutes stands out in the memory from either team.
And for the most part, the game really fizzled out. Compared to the first 20 minutes, at least.
One or two things to mention: the first of which is the fact that Berbatov scored in the 56th minute, a no-look through ball by Anderson finds Berba in the box, and his shot is deflected off Ferdinand. Anton Ferdinand. And into the goal. As goals, usually, tend to be.
And he wasn't finished there. In the 69th minute, Berbatov had such a fantastic chance. Fantastic because it came from a shot from Gibson which he controlled and decided to overhead. What is with this guy and being so flashy?
Just to illustrate how comfortable this game was, Sunderland's first shot on target came in the 78th minute. First shot on target for THE WHOLE GAME. True story.
2-0FT and the United machine keeps marching on and on.
Reaction
The first 20 minutes were electric. But even then, it never felt more than 3rd or 4th gear for us. The rest of the match, certainly, wasn't an exhibition. It was just what was necessary.
Anderson has well and truly come into his own. He played a solid game today. And I know, I know. I throw the word "solid" around so often. But there's just no other way for me to describe it. Mainly because I'm lazy and you know what I mean, anyway. Anderson is difficult to dispossess, and a powerful and purposeful runner. He'll be useful in this congested festive period as we try to forge ahead.
Giggs really rolls back the years with another stellar display. I remember last season, or the season before last, when he started playing in the center and in a deeper role. Tonight we saw him in full flight, on either wing—admittedly in a slightly more central role, he wasn't getting the chalk on his boots—but his insightful dribbling and good passes led to the first goal, and resulted in the ball heading to Anderson's feet for his pass to Berbatov for the second.
But
Best Player
has to be the goalscorer.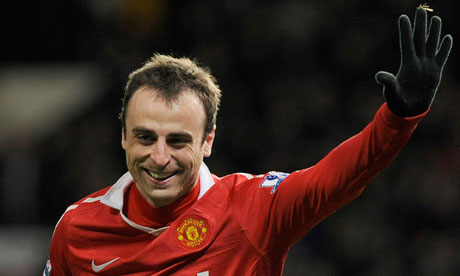 Dimitar Berbatov
could've had a hat-trick today. Hell, he could've scored four. In the end, he only got two, "
only
got two", but man, he's really hitting top form. Timely, too! Considering our two main men, Park and Nani, won't be featuring in our next match in just over 48 hours. (Right?)
Take a bow, Berbatov.
Where We Stood, Where We Stand
That win takes us 5 points clear of Arsenal, after the same number of games played. But City's win over Newcastle means they move into second, 2 points behind us... But they've needed 2 extra games to get there. All bodes well for our immediate future! Next up: Birmingham City.
1|United|17P|22GD|37PTS
2|Man City|19P|12GD|35PTS
3|Arsenal|17P|15GD|32PTS
4|Chelsea|17P|19GD|31PTS
--------------------------------------
5|Tottenham|17P|3GD|27PTS