The 411:

It seems like an age since United last played thanks to a postponed game against Chelsea, but fear not! The Premier League is underway again for United as we take on Steve Bruce's tough Sunderland team.
Chasing the Title:

The mighty Red Devils are
top of the league after a Chelsea slump and Arsenal's perpetual failures. We need to keep it that way, and that's why a win here would be ideal. A loss here wouldn't be terrible, but it would put us in a compromising position, and besides... seeing United lose, or even draw, is painful to take.


Where We Stand:
1|United|16P|20GD|34PTS

2|Arsenal|17P|15GD|32PTS
3|Man City|18P|10GD|32PTS
4|Chelsea|17P|19GD|31PTS

--------------------------------------

5|Tottenham|17P|3GD|27PTS
Enemy Form:

Sunderland are performing above everyone's expectations and are lying 6th in the table, that's good for a shot at Europe and bragging rights over Liverpool, which is always a good thing to have. Anywho, their last 5 games have been fairly scrappy. Sunderland sport a D-L-W-D-W record with both their wins being 1-0 victories. It must be mentioned though, that their 6th game before today was a 3-0 win against Chelsea, so they're no pushovers.
Sunderland will still be tough and the fact that they're playing Manchester United (
the best freakin' team in all the land, Woo Hoo!
), means that they'll be up for this game to show everyone else that they mean business.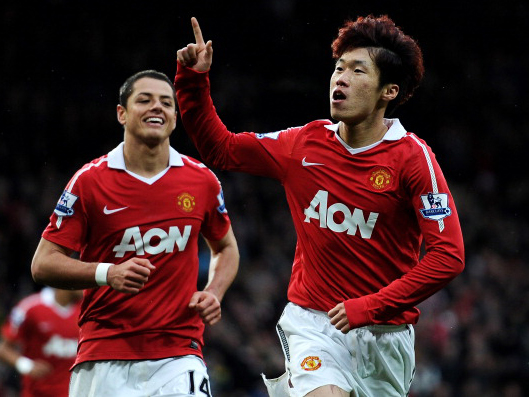 Players to Look Out For:

This won't be such a struggle as Sunderland have such a great squad with many quality players to choose from, including Danny Welbeck who's been in brilliant form lately.
Anywho tonight, our eyes should be fixed on
Darren Bent, Asamoah Gyan, and Jordan Henderson.
Bent and Gyan will probably be the preferred starting strikers as Welbeck will be ineligible due to his United ties. These two are very dangerous men, they're strong, quick, and can find the back of the net with ease. Gyan has been making a name for himself in the Premier League this year, but Bent is a proven goalscorer. I had him in my fantasy team last year, and he carried me through the tough times (that is, when Rooney got injured). And besides, 24 goals in the League to come in 3rd behind Rooney and Drogba is no easy feat.
Henderson on the other hand, is a very promising young midfielder who is attracting a lot of interest from big teams. He'll be good on the ball and can chip in with an assist or two, so I'm looking to Carrick or Fletcher to stop that.
On our side, new United stud
Anderson
will get a chance to show that the last few games were no fluke. He'll be charged with breaking the stubborn Sunderland midfield and defense smack through the middle, as we now know he can do. Like I said before, I've screamed more than my fair share of abuse at him, but hey, if he delivers tonight, I'll stop... for now.

On the Home Front:

The injury bug is slowly leaving us and physioroom.co.uk is telling me that we only have O'Shea, Scholes, and Valencia out injured now. Curious... I'm sure Hargreaves isn't quite back yet, but who knows maybe a surprise inclusion for him on the bench tonight?
Let's not forget, tonight is Park's last game before he heads off to the Asian Cup, so we should see him in action and giving us his all, not that he doesn't usually do that anyway.


TSR's Thoughts:

1. Can Anderson maintain his epic form?
2. How will the team perform after an extended layover? Will they be out of it, or will they be raring to go?


Bold Prediction:

Anderson to have a stellar game, resulting in me changing my opinion about him. Also, United to win by two with Rooney to nab a goal or an assist.
Give me one good reason.