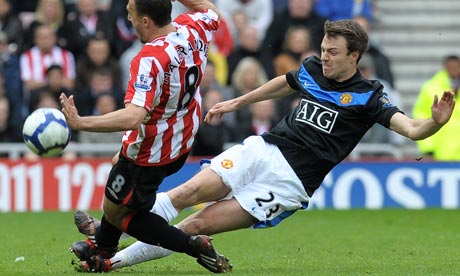 I am a proud supporter of Manchester United's youth system. Not everyone that comes out of the academy can become a Giggs or a Neville (Luke Chadwick, I'm looking at you), but a lot of players end up becoming relatively successful soccer players in Manchester or somewhere else. The ones who've made it at Old Trafford are obvious, but have a look at Kieran Richardson, Giuseppe Rossi, Gerard Piqué - all moved on to be decent players, and in the case of Piqué, a World Cup winner.
Last year, I had incredibly high hopes for Jonny Evans, or Jevans as I call him. A defensive crisis hit us hard and Big J was called up to cover for either Rio or Vida. No matter what he was told to do, Jevans was stellar. We had a star in the making. But this year, something's changed. For one, Jevans' game time has been cut down due to a healthy backline. Plus, in the time that Jonny was actually in the team, United played bad defensively leading to the draws to Fulham, Bolton, and Everton. It seemed as though our star had begun to fade.
I still have faith in Jevans to pull through as a future centerback for the team. But with the emergence of Chris Smalling and the defensive lapses of this season, it's not looking good for our favorite Northern Irishman at the moment.
So now there are questions surrounding big J, "Is Jonny Evans going through a sophomore slump, or was last year a fluke?", "Will Jevans turn into a Richardson, a Chadwick, or a Giggs?", and "Will the pressure continue to get to him?"
A penny for your thoughts. Well, not really... I'm not that generous.
Also, bonus points if you can guess what team's in blue.