The Breakdown
West Brom 1-2 United
The first half was disappointing overall, despite Wayne Rooney's early effort. But a beastly, dogged effort from the rest of the United team, Rooney included, meant that, after going ahead towards the end of the match, we were able to hold on to our second away win of the season.
Wayne Rooney gets his first goal in open play since March, a header on 2 minutes and West Brom looked jittery at the back.
But it was not to be for United, as the fightback began for them and our lead only lasted around 10 minutes when James Morrison scores an absolute beauty.
I'd hate to admit it, but that was pretty fantastic. First-time and it swerved past Kuszczak, deputising for Edwin van der Sar, in goal. At least the equaliser was a screamer, as opposed to a sloppy pile of turd.
And it didn't end there. On a soft pitch, saturated with moisture from the rain and probably from snowfall it's seen in the past couple of weeks, we found it very very difficult to get our normal slick passages of passing into gear. Even the runs seemed laboured and fatigued—which may be down to the fact that the side featured 7 of the 11 players who started against Birmingham on Tuesday.
A penalty shout turned down and a chance right on the stroke of half-time capped a positive first half for West Brom.
Worryingly, they started the same way they ended the first. Quick to put pressure on a shaky-looking United defence, almost immediately, Scharner gets a bullet header from a corner just wide.
Changes on the hour, the woeful Obertan and, surprisingly, Berbatov off for Gibson and Chicharito. Didn't seem to make that big an impact at first, and in fact, Chicharito is dispossessed in the middle of the Albion half which leads directly to Jerome Thomas one-on-one with Rio Ferdinand, Rio sticks a leg out, regulation penalty.
But Odemwingie, one of the dangermen I suggested in the Gameday post, lined up his shot and mis-cued it well well wide. Get out of jail, right there. United were seemingly down and out, but there was still a little bit left in this one, though it came from West Brom's best chance to seal a victory.
And it was Carrick, on 74 minutes, who finally brought some life back into United's game, his ferocious shot palmed away for a corner. And it was this corner where Javier 'Chicharito' Hernandez put Manchester United back in the lead. I was very excited by this. 2-1. Rooney with the cross, no one marking him, easy enough.
And almost as if the life was breathed back into United, Rooney's charging forward, rolls it to Fletcher who clips it back at Rooney, now in the penalty area, and his scooped header just over the bar.
But West Brom refuse to let it go, and their attempts on goal kept piling on.
Then... Rooney, aww fuck man. A tackle from Chris Brunt hits Rooney on his left leg which jars his left ankle. It looked pretty bad, judging by his reaction. Bizarrely, though, after the "sub" signal made by Rob Swire and being off the pitch for a minute or two, HE COMES BACK ON. Bad move, I reckon. He'll exacerbate that injury in some way or another and could be out for a while...
But the whistle blows which relieves everyone in red, 2-1FT and our second away win of the season sealed by Chicharito.
Reaction
We were outplayed today. Fair and square. This is definitely a landmark win. Champions are made of this.
Gary Neville should not have been playing. Not in this match. And, dare I say, not for the rest of the season. His fitness levels are not what we need from a full-flowing full-back. If you're gonna be in the team, at least stay back.
Sorry man, I reckon your time's up.
But that's the thing, Sir Alex doesn't play any wingers, bar Obertan who hasn't impressed. Fletcher played down the right, but as it's not his natural position, he didn't make an impact.
So Neville's hand is forced and he
has to
bomb forward to give United that option on the flank. Trouble is, he's terribly unfit and does not get back in time if (
when
) he loses the ball, which leaves huge gaps at the back which is part of the reason why West Brom had such good opportunities.
Obertan had a shocker. I shall not speak further on this.
So did referee Chris Foy.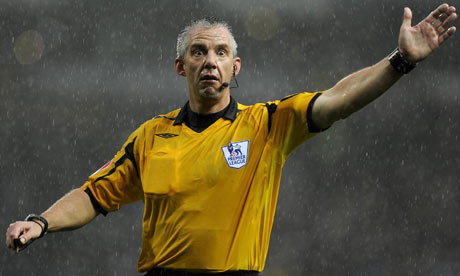 Best Player
, by far in this match, was
Jerome Thomas
. He tormented Gary Neville and his replacement Fabio throughout the entire match, and everything positive for Albion seemed to flow from him. We played so badly, the undisputed Man of the Match is an Albion player. That tells you all you need to know.
But, as always, 3 points are 3 points, regardless of how they're acquired. All that matters is what happens in the section below:
Where We Stood, Where We Stand
First Premier League match of the new year, so basically that's how the table would look like if we played one of our games in hand. 3 points clear of City, with a game in hand, 5 ahead of Arsenal with the same number played. Needless to say, after the rest of the matches this weekend, it could look slightly different...
1|United|19P|23GD|41PTS
2|Man City|20P|16GD|38PTS
3|Arsenal|19P|17GD|36PTS
4|Chelsea|19P|18GD|34PTS
--------------------------------------
5|Tottenham|19P|6GD|33PTS
COME ON BOYS.